We Love The Planet creme deodorant – So Sensitive
De We Love crèmedeodorant bestaat uit 100% natuurlijke ingrediënten. Er zijn geen synthetische stoffen en aluminium aan toegevoegd waardoor de deodorant niet schadelijk is voor je lichaam. Beter voor je lichaam én de planeet!
De natuurlijke ingrediënten in 'we love the planet' deodorants werken verzachtend en hydraterend. De zachte crème wordt snel opgenomen in je huid en verstopt de poriën niet. Het helpt je fris te blijven op een natuurlijke manier!
Werking
Elke deodorant in de basisljin heeft als een combinatie van onder andere bijenwas, kokosolie, baking soda en maiszetmeelpoeder die de deodorant goed smeerbaar maken en je huid fluweel zacht. In deze speciale vegan variant is de bijenwas vervangen door was van het Myricabesje en de baking soda door een verhoging van het maiszetmeelpoeder.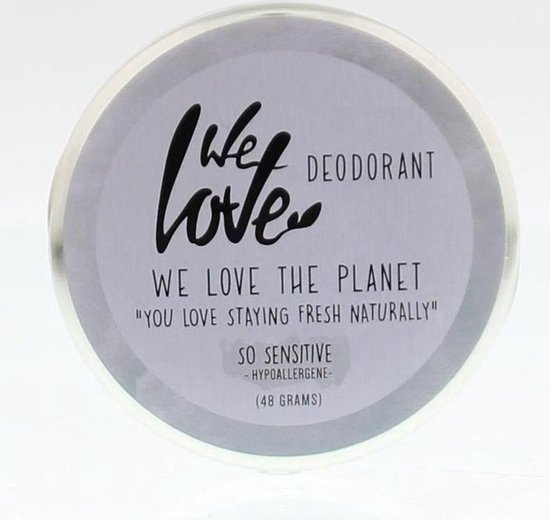 We Love The Planet creme deodorant – So Sensitive