The Heartbreaker Series Box Set
The Heartbreaker Series Box Set includes:
(1) Damian (The Heartbreaker, #1)
(2) The Heartbreaker, prequel novella to Damian
(3) Taming Damian (The Heartbreaker, #2)
DAMIAN
Meet Damian Castillo. The man, the legend, the heartbreaker. As a self-proclaimed man-whore, Damian doesn't believe in love or commitment. In fact, he can't remember the last time he's had feeling for a woman that went beyond hot, no-strings-attached sex. The only things he cares about are his bar, his appearance, and his needs.
But then he meets Alexis.
Meet Alexis Blythe. A small town girl that has lost a lot of love in her life. Wanting to leave her past behind her, she moves to San Francisco looking for a big change. Yet, despite everything she's gone through, she still believes in true love.
But then she meets Damian.
When Alexis shows up into his life, Damian's caught by surprise. She's different. She's sweet, innocent, and feisty. But above all, this woman didn't respond to his charm and piercing-blue eyes the way every other woman did. To Damian, she's his ultimate challenge.
Could Alexis be the girl that will break through Damian's wall of perpetual bachelorhood without getting hurt? Or will Damian remain true his ways and break Alexis's heart and her hopes of true love?
TAMING DAMIAN
She destroyed me. Can I still love her?
Damian Castillo is the man, the legend, the heartbreaker–the self-proclaimed man-whore that doesn't believe in love or commitment. That is until he meets Alexis Blythe–the innocent, strong-willed small town girl who didn't immediately give into Damian's charm. With Alexis, Damian sees something more than just hot, no-strings-attached sex, and against his inner resistance, he gives into his feelings for her.
But just when their relationship begins to bloom, something unexpected threatens to break them apart. Will Damian leave Alexis and go back to his playboy ways and break yet another heart? Or will Damian's love for Alexis be strong enough to convince him to stay and fight for a woman that's like no other he's ever met before?
THE HEARTBREAKER – PREQUEL NOVELLA
Meet Damian Castillo. The man, the legend, the heartbreaker.
The only thing that matters in his world is his "little black book": his large black shoebox filled with hundreds of phone numbers from the nameless women in his life. He knows what he wants: mind-blowing, no-strings-attached sex. And as the hottest bartender in San Francisco, he never has a problem getting exactly what he wants when he wants it.
But sleeping with every hot woman that throws herself at him can sometimes lead to unexpected problems, and Damian discovers this when he finds himself caught in the middle of his two recent conquests. Will his manwhore ways get him into more trouble than he can handle, or will this heartbreaker manage to get out unscathed?
New Adult Contemporary Romance with **Mature Content** Recommended for 17+ due to mature language and adult situations.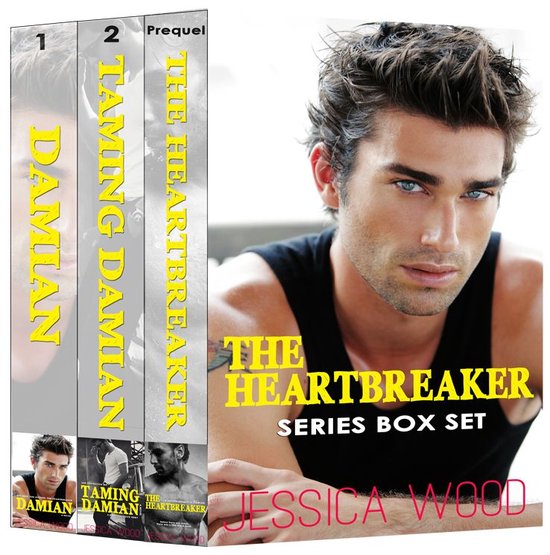 The Heartbreaker Series Box Set