The Encyclopedia of Country Living, 50th Anniversary Edition
#1 — The Best Country and Rural Living Books*
#1 — 15 Best Homesteading Books for Beginners in 2021**
For more than 50 years, this homesteading classic is the essential book of basic skills and country wisdom for living off the land, being prepared, and doing it yourself. Keep your family healthy, safe, and independent–no matter what's going on in the world.
From homesteaders to urban farmers, and everyone in between, there is a desire for a simpler way of life: a healthier, greener, more self-sustaining, and holistic approach that allows you to survive and thrive—even in uncertain times.
With its origins in the back-to-the-land movement of the late 1960s, Carla Emery's landmark book has grown into a comprehensive guide to living a self-sustaining lifestyle. Learn how to live independently in this comprehensive guide, including how to:
* Can, dry, and preserve food
* Plan your garden
* Grow your own food
* Make 20-minute cheese
* Make your own natural skincare products
* Bake bread
* Cook on a wood stove
* Learn beekeeping
* Raise chickens, goats, and pigs
* Create natural skincare products
* Make organic bug spray
* Treat your family with homemade remedies
* Make fruit leather
* Forage for wild food
* Spin wool into yarn
* Mill your own flour
* Tap a maple tree
And more!
Basic, thorough, and reliable, this book deserves a place in urban and rural homes alike.
This 50th anniversary edition includes updated resources.
* Bookscrolling
** OutdoorHappens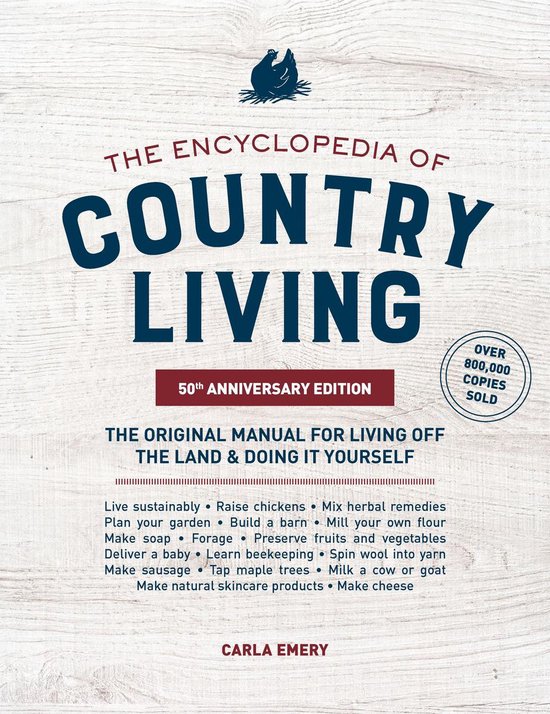 The Encyclopedia of Country Living, 50th Anniversary Edition