The Doings of Hamish and Dougal
Hello there! You'll have had your tea? Dougal here. Well, here we go, with our wee book. It's a collection or pot pourri (I've no idea what Hamish means by that – it sounds like something to do with the Pope) of our activities or 'doings' in the village we call home, because that's exactly what it is.
Together with our housekeeper, Mrs Naughtie, and of course, the Laird who lives up at the big hoose and shoots grouse and other bottles of whisky, these are the actual scripts of our wee show which we performed on the wireless, when most of you were probably in bed!
Hamish and I have known each other all our lives – well, not yet, obviously! We have a very close relationship and also with each other. Mrs Naughtie been with us since we first met her at the Krankie Arms, where she was working as part-time barmaid and bouncer.
In addition to the scripts you'll find all kinds of other things tucked away under its kilt. There's a hectic social life in the village. You'll visit the 'bide a wee' café, proud possessor of three Michelin tyres. You'll have a conducted tour of the big hoose by Big Tam, our local guide (not during opening hours). You'll marvel at the site of the Battle of Auchtermuchty, now allotments. You'll peek into the Laird's social diary in 'oot and aboot' (40p at the post office). And a great deal more.
Well, I hope this wee note will make you hurry to the till and spend the terrible amount of money these wee books cost these days. But then again this particular wee book is Scotland's answer to Richard and Judy! Hurrah!
Away now …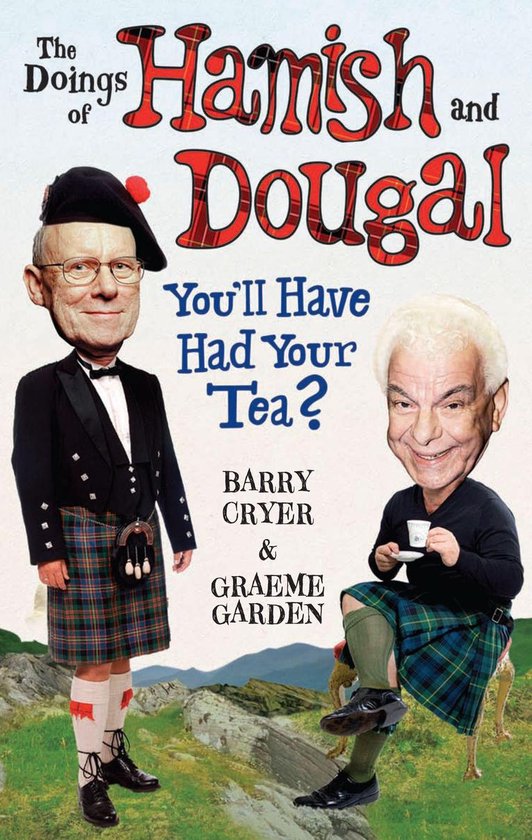 The Doings of Hamish and Dougal