Silverlit Spinner MAD Duo Battle Pack – 2 Blasters, 2 Spinners
Spinner Mad is een spannend Battle Actiespel! Plaats de spinner op je blaster, gebruik de power booster om je spinner op te laden en… schiet! Laat jouw spinner zo lang mogelijk draaien! Battle met vrienden en zie hoe de spinners met LED verlichting elkaar proberen omver te stoten. Degene van wie de spinner het langst blijft staan, is de winnaar! Dit actiespel is iedere keer weer spannend en sensationeel. Geen batterijen nodig, ready to play. Spinner Mad: Boost to spin, Shoot to win! Deze set bestaat uit 2 pistolen en 2 spinners mét LED verlichting. Leeftijdsindicatie: 5 jaar+. Afmeting verpakking: 46x6x22cm (lxbxh).
2 Blasters, 2 Spinners
Daag vrienden uit voor een spinner Battle
Laad de spinner op je blaster en schiet de spinner in de arena
De spinners maken stoere stootgeluiden
Blijft jouw spinner het langst overeind staan, dan ben jij de winnaar!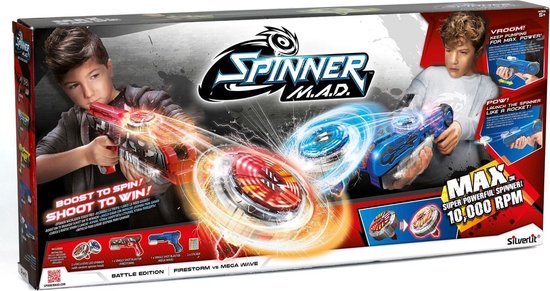 Silverlit Spinner MAD Duo Battle Pack – 2 Blasters, 2 Spinners