Sewing Set – Naaiset Naaisetje – Luxe Naaisetje met opbergbox – Naaibox – Sewing kit
You can rely on quality, durability and sustainability. Our sophisticated premium sewing kit will not disappoint you when sewing. It is lightweight yet robust and combines beautiful design with clever features. For travel, home, gift, handbag, put it anywhere.
The sewing kit is compact, easy to take with you and still has everything you need. 30 needles, 16 colours, 1 thimble, 1 threader, 1 pair of scissors and 1 measuring tape. So you always have your sewing kit at hand. When it comes to travel, you won't find a better travel sewing kit.
Conventional sewing boxes are often cheap mass-produced goods and look like this. The contents are little thoughtful and unnecessary. We love sewing and have designed a functionally optimised sewing set, which you will enjoy for a long time and meaningful pleasure.
Our sewing kit makes a great special gift idea for anyone you care about. Thanks to the beautiful gift box and the high-quality, recyclable case, the set stands out from the crowd. With our elegant sewing accessories set, you will effortlessly make an impression.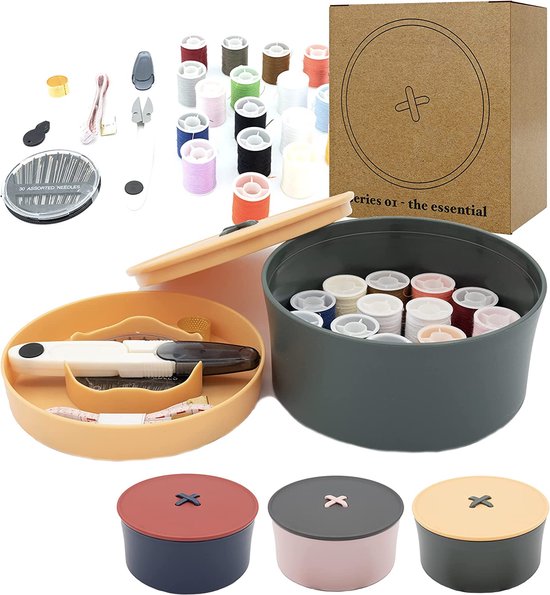 Sewing Set – Naaiset Naaisetje – Luxe Naaisetje met opbergbox – Naaibox – Sewing kit