Sewing Set – Naaiset Naaisetje – Luxe Naaisetje met opbergbox – Naaibox – Sewing kit
【All-in-One】A complete sewing kit contains all the tools you need for basic maintenance, including 24 coloured bobbins, 30 high-quality different needles, strong stainless steel scissors, a tape measure and beautiful beading needles, etc. (Please note: the colour of the thread may vary slightly from the picture)
Lightweight and portable: all sewing accessories come in a compact box with zip that is lightweight and has a side pocket and a loop handle for easy transport. Its ideal size fits in suitcases, briefcases, cars and you're ready for all emergency sewing.
Easy to use: This sewing kit contains all the basic sewing accessories you need to get started, ready to use, easy for quick emergency repairs or daily sewing, suitable for beginners and even children to learn the basics of sewing.
Perfect gift: gifts for loved ones and friends, sewing kits are a practical and thoughtful gift for beginners, mothers, grandmothers, frequent travellers, campers, hobbyists, backpackers. Add it to your emergency preparedness kit.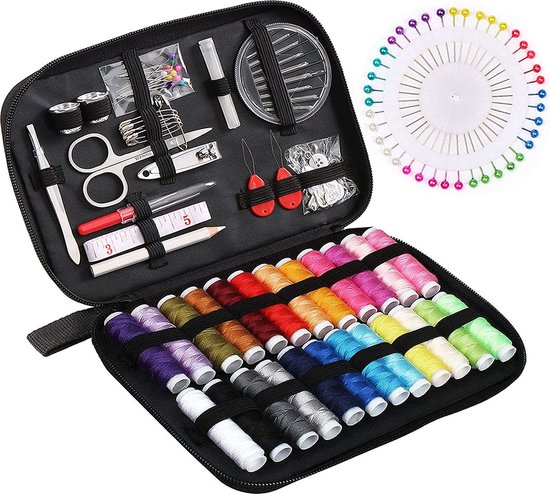 Sewing Set – Naaiset Naaisetje – Luxe Naaisetje met opbergbox – Naaibox – Sewing kit