Tuinposter buiten tekst zwart wit quote Enjoy the little things in life 50×70
HEE Goodies tuinposter buiten tekst zwart wit quote Enjoy the little things in life 50×70
Heb jij ook zo'n saaie kale schutting of muur in je tuin? Fleur hem op met een tuinposter van HEE Goodies! Deze tuinposter bevat trendy handlettering en de populaire quote 'Enjoy the Little things in life'.
De tuinposter is geschikt voor buitengebruik en kan het hele jaar door buiten blijven hangen. Ook leuk om bijvoorbeeld boven een loungebank of onder je veranda te hangen! Vanwege de tijdloze zwart wit kleuren geschikt voor veel diverse stijlen en dus ook geschikt als cadeau.
Deze en meer leuke posters, stationery en kaarten vind je bij HEE Goodies! Al onze producten zijn met veel liefde door onszelf ontworpen en geïllustreerd.
Een aantal details van deze tuinposter met tekst zwart wit

De afmeting is staand 50 x 70 cm (bxl);
De kleuren zijn zwart wit;
De stijl is modern en tijdloos met typografische handlettering;
Met de inspirerende quote 'Enjoy the little things in life';
Dit ontwerp is ook verkrijgbaar als poster voor binnen;
Inclusief vier ringen in iedere hoek om de poster goed op te kunnen hangen;
Onze tuinposters zijn gedrukt op 510 grams bisonyldoek (zeildoek). Dit materiaal wordt ook gebruikt voor zeilen van schepen en spandoeken. Het materiaal is geschikt voor alle weertypes en kan het gehele jaar door buiten hangen. Daarnaast is het eenvoudig te reinigen.
EAN8720165218042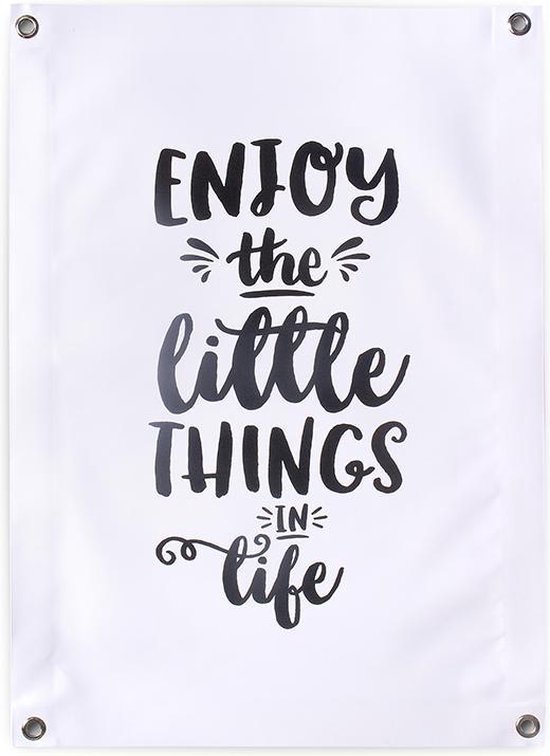 Tuinposter buiten tekst zwart wit quote Enjoy the little things in life 50×70