Scars of Days Forgotten Series – Scars Of Days Forgotten Series, Books 1-3: Forgotten Scars, Hidden Scars, & Twisted Scars
Forgotten Scars
Humanity is not alone.
Supernatural beings are hiding among us. The Psi have remained secluded from humans for far too long, and there's a faction that is conspiring to break the veil and use their powers to take their rightful place among humans – as our rulers and conquerors.
Wren is a college student who didn't think her life could get much worse. That is until she's kidnapped by the Psi and questioned about her closest friend. But the Psi offer her something no one else can – the truth about who she is.
But can she trust the Psi? Can she trust her feelings towards her irritatingly charming captor? Or is she just a pawn in a very dangerous game?
Step into the supernatural conspiracy surrounding Wren and uncover her fate by clicking Buy Now today!
Hidden Scars
War is coming.
Wren's been pulled into a world of secrets and deception. The step-sister she didn't know she had is the leader of a global Resistance and Wren's friends are trapped on the opposite side.
As she tries to find her place in this new world, Wren's forced to witnesses first hand the brutality that Wesley and the Psi Council are capable of. No one is out of their reach. No one is safe.
When the man she's falling in love with is taken captive, Wren must be willing to risk everything to get him back. Even herself.
Twisted Scars
To be the Hero, he must first become a Villain…
Wren and Misha have disappeared, leaving Darshan behind with nothing but questions. Determined to take over his father's position as Caretaker, Darshan does everything he can to prove his worth, including training the next generation of Psi at their boarding school. But while he's working at the school, a new threat comes to the Psi house.
His mother.
She's determined to arrange a marriage for his sister, Jyoti, but Darshan will do anything in his power to keep that from happening. Even if it means proving his loyalty by hunting down his best friend and the woman he loves. Splitting his time between searching for his friends and working with the gifted Psi children at the school, Darshan soon finds his beliefs challenged and his loyalties tested. Things don't add up, and he's no longer sure who the real threat is.
With so many lives in the balance, Darshan has to choose who to protect and who to sacrifice. But he soon realizes that selling his soul might be the steep price he has to pay to protect those he loves.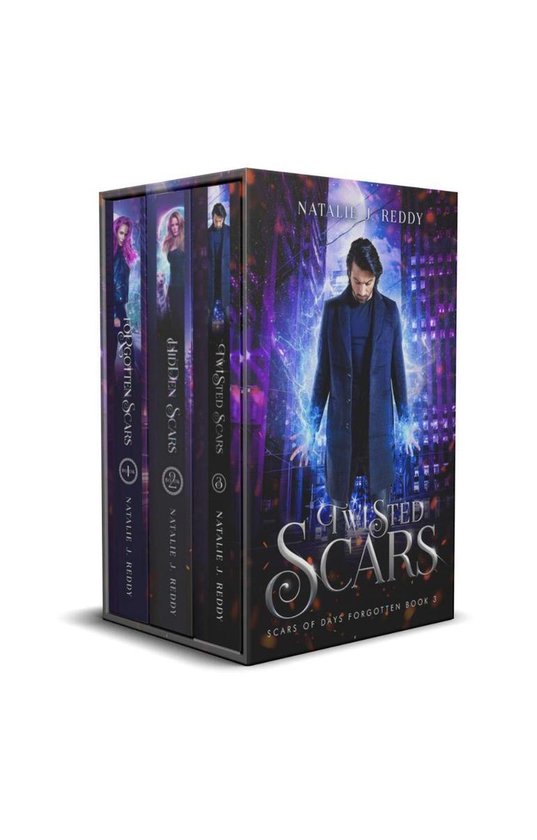 Scars of Days Forgotten Series – Scars Of Days Forgotten Series, Books 1-3: Forgotten Scars, Hidden Scars, & Twisted Scars