Peachy Bowlingspel cadeau met Knikker Kegels Pins – Bowlingbaan Hout
Een bowlingspel voor jong en oud, ga met je vrienden/vriendinnen, familie of ouders lekker een potje ouderwets bowlen. Duw de knikker van de verhoging en zie of jij een spare of misschien wel een strike kan gooien! Draai de houten houder waar de knikker in ligt in de juiste hoek en rollen maar.
Leuk spelletje voor op vakantie bij de tent of voor de kinderen in de auto. De kap zorgt ervoor dat de bowling pins bij elkaar blijven op de baan, wel zo fijn.
Heb je geen zin om helemaal naar de bowlingbaan toe te lopen, bestel dan dit bowlingspel dan komt de bowlingbaan naar jou toe. Gooi vanaf je luie stoel een strike en verras je vrienden.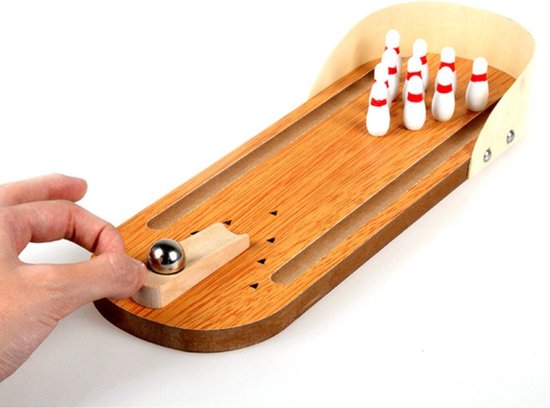 Peachy Bowlingspel cadeau met Knikker Kegels Pins – Bowlingbaan Hout