Oversized hoodie – Plaid – Hoodie Deken – Met lange mouwen – Unisex – Eén maat
Uniek vormgegeven: de buitenkant van de deken met een mooi delicaat patroon, helemaal niet eentonig, houdt warm en is toch modieus, mooi en elegant. De beide zijden zijn gemaakt van verschillende materialen, flanel aan de buitenkant zacht en comfortabel en lamsfluweel binnenin warm en zacht.
Veelzijdig inzetbaar: het voorvak van de oversized fleecehug-hoodie is groot genoeg om je afstandsbediening, je telefoon of snacks te gebruiken, je hebt hem altijd bij je. De Giant Hoody voorzak is bedoeld voor klanten die op zoek zijn naar zachtheid. De gezellige deken is perfect voor het luieren thuis, televisie, spelen, lezen van een boek of voor kamperen of outdooractiviteiten.
Sluiting: pull-on.
Vintage
Ultra zacht en behaaglijk materiaal: deze knuffeldeken is hemels pluizig van microvezelweefsel met een gewicht van ca. 420/m², 100% flanel. Pluist niet, vervaagt niet, geen geur, geen vouwen. De woondeken is onderhoudsvriendelijk, strijkvrij en wasbaar op 30 graden. De juiste verzorging zorgt voor een lange levensduur.
Eenheidsmaat: knuffeldeken in 198 x 122 cm. Groot en ruim genoeg voor volwassenen, mannen, vrouwen, tieners en meisjes. Het is geschikt voor mensen van alle lichaamstypes. De mouwuiteinden zijn elastische manchetten die warm houden.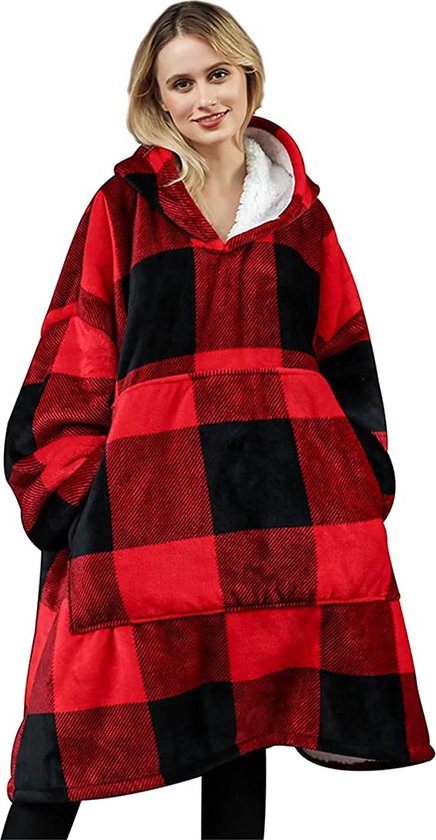 Oversized hoodie – Plaid – Hoodie Deken – Met lange mouwen – Unisex – Eén maat