Oversized groote hoodie – Hoodie deken – Warme deken – Warme deken hoodie – Winter deken – Fleece dekentje – Hoodie Blanket
Materiaal: de deken met capuchon bestaat uit 100% polyester. Superzachte en comfortabele stof, die je bij koud weer warm houdt
Maat: Bovenwijdte 80 cm, lengte 110 cm, oversized, uniseks, kies gewoon de kleur, maak je geen zorgen over de maat.
100% polyester
Eigenschappen: een lange deken met capuchon biedt voldoende bescherming voor hoofd en tenen, een extra grote capuchon houdt je hoofd warm en twee grote zakken zijn perfect geschikt voor het opbergen van snacks, mobiele telefoons en afstandsbedieningen.
Gelegenheid: als je ook op de bank in de woonkamer tv kijkt of een boek leest, is deze oversized hoodie perfect voor jou, terwijl de deken een leuk kerstcadeau is voor familie of vrienden.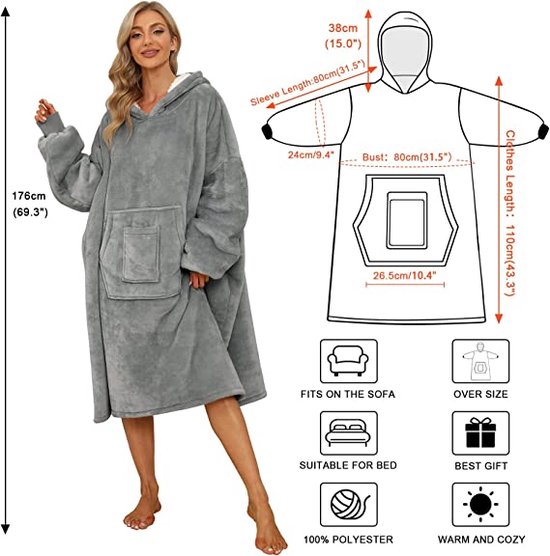 Oversized groote hoodie – Hoodie deken – Warme deken – Warme deken hoodie – Winter deken – Fleece dekentje – Hoodie Blanket