Ennui Allround wrist brace
Ennui Allround wrist brace Large
Deze instap brace bied een vereenvoudigde constructie, met een ademend, zacht en comfortabel voeringmateriaal in plaats van de neopreen hoes.
Het bevat het nieuw anatomisch gevormde kunststof spalk voor de handpalm en de achterkant, voor een flexibelere pasvorm en tegelijkertijd voor dezelfde geweldige bescherming.
De plastic spalk in de handpalm is zeer duurzaam en glijdt beter over de grond, waardoor hij meer geschikt is voor bepaalde sportactiviteiten.
Onvergelijkbare kwaliteit en bescherming in zijn prijsklasse.
Opmerking: Dit product valt klein. We raden je daarom aan 1 maat groter te kiezen dan wat de maattabel aanbeveelt.
S: 6.5 – 7.5 of 16,5 – 19 cm
m: 7,5 – 8,5 of 19 – 21,5 cm
L: 8.5 – 9.5 of 21,5 – 24 cm
XL: 9,5 – 10,5 of 24 – 27 cm
Dit zijn hand omvang maten gemeten ronde de hand bij de knokkels, zonder de duim. Gebruik een touwtje om om de hand te doen en leg hem daarna langs een meetlat.
The ENNUI ALLROUND wrist brace is more affordable than the ENNUI City brace but with the same great fit. Our entry level brace offers a simplified construction, with a breathable, soft and comfortable lining material instead of the neoprene sleeve. It includes our new anatomically shaped plastic splint for the palm and the rear, providing a more flexible fit while providing the same great protection, also the plastic splint in the palm is very durable and slides better, making it more suited for certain sports activities. Unmatchable quality and protection in its price range.
Size: S – XL
Upper: PU leather, mesh
Splint: Top and bottom PE
Padding: EVA Foam
Lining: Nylon
Clossure: Laces & strap
Testing Standard: EN 14120:2003+A1 2007 L1 Class C
Vegan: Yes
Safety rating: A+++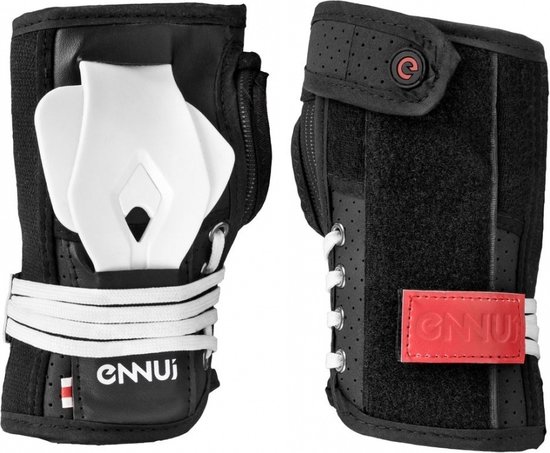 Ennui Allround wrist brace