Beliani LAPU – Plaid – Grijs – Katoen
Katoenen plaid in klassieke look. Maak je bed of bank compleet met stijlvol textiel waardoor je het hele interieur opwarmt en knus maakt. Dit deken, dankzij de subtiele kleur en het patroon, past perfect bij verschillende kleuren paletten en ontwerpen. De accessoire is handgemaakt van hoge kwaliteit katoen en zachte katoenvezels.
Details:
Producttype:
Plaid
Stijl:
Boho
Kleur:
Grijs
Kap:
Donkergrijs
Soort materiaal:
Stof
Hoofdmateriaal:
Katoen
Material Composition:
100% katoen
Dichtheid:
400
Patroon:
Monochroom
Afmetingen:
Breedte:
125 cm
Lengte:
150 cm
Hoogte:
1 cm
Gewicht:
0.9 kg
Aanbod omvat:
1 x Laken
Belangrijkste eigenschappen:
Heerlijk zacht, Perfect voor zowel slaapkamer als woonkamer, Decoratief en functioneel, Handgemaakte precisie, Onderhoudsvriendelijk en duurzaam materiaal
Montageinformatie:
Geen montage benodigd
Extra informatie:
Elk product is met de hand gemaakt. Daardoor zullen er verschillen zxijn in textuur en kleur. Dit zijn karakteristieken van het materiaal en worden niet beschouwd als een kwaliteitsfout.
Onderhoudstips:
Katoen:
1.Niet geschikt voor de droger en niet strijken, tenzij op het etiket anders staat aangegeven
2.Was met de hand of selecteer het fijne wasprogramma (max. 30 °C), tenzij anders aangegeven in de instructies van de fabrikant.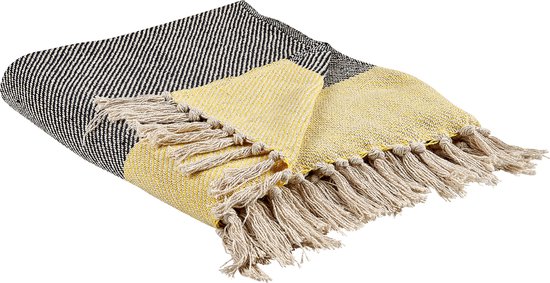 Beliani LAPU – Plaid – Grijs – Katoen