7 Cheat Quotes for The Unsuccessful
Congratulations! You've made it to this page. Am I excited? No. The next choice we make will determine if we'll make or break it. Hate to burst your bubble, but that's the truth.
Things are going to get harder from here. Way harder than anyone can imagine. Nobody wants to hear that. But the path to success begins by doing one thing at a time, not jumping around doing multiple things at once. We are human beings after all and we get distracted very easily.
Why must I read this ebook?
How many books have you read? Has that ebook gotten you anywhere near success? Probably not. This ebook is meant for non-readers. I've made bookworms read this and they were impressed at how short and simple the content of the ebook is.
Why isn't this ebook free?
Free means it's worthless. Unless I have something else to upsell you then I would give it away for free. But if you purchase it, then I know that you want to CHANGE. If you complete this ebook then you have taken ONE step to success.
You shouldn't trust anyone, really. Our goals are not the same. Unlike those on social media, I'm not interested to be well known. you can look up on my facebook page at the end of the book.
Look, we all have our pains and struggles. I've attained my own success and I don't have to show anyone to prove it. This ebook is not meant to be entertaining, it's meant to be uplifting. For non-readers, I know that it is scary to pick up a book (in this case it's an ebook), let alone finish it. Let this be your first step towards whatever success you're aiming for.
Wish you all the best finishing this. When you do, read "About the author" and I welcome you to join me on my page on Facebook.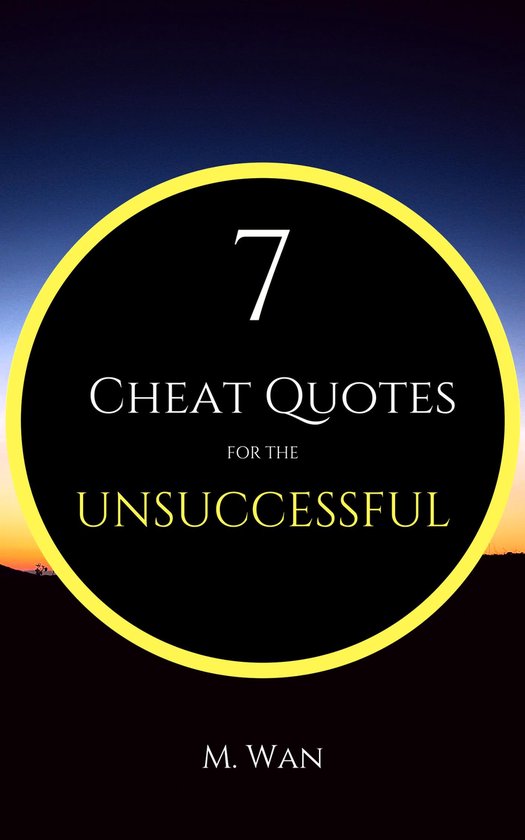 7 Cheat Quotes for The Unsuccessful