Placemat voerbak – Placemat hond – Placemat kat – Love – Quote – Spreuken – 'Remember, the greatest gift is not found in the store' – 30×45 cm
Voermat – Love – Quote – Spreuken – 'Remember, the greatest gift is not found in the store' – Placemat voor voerbak
Heeft jouw huisdier ook altijd moeite om netjes te eten en drinken? Ben je het zat dat de vloer altijd nat wordt en het voer overal en nergens ligt? Met deze handige placemat voerbak bescherm jij jouw vloer eenvoudig tegen je knoeiende huisdier(en)! Je kunt de placemat gemakkelijk onder de voerbakjes leggen.
De voermat is gemaakt van vinyl. Dit is een materiaal van licht gewicht. Hierdoor kun je hem makkelijk verplaatsen. Daarnaast bevat de voerbak placemat een antislip laag, waardoor deze niet wegglijdt bij gebruik. De placemat beschermt je vloer dus ook nog eens! Daarnaast is de voermat waterafstotend. Het houdt het water uit het voerbakje dus tegen als je huisdier knoeit. Hierdoor is de placemat voerbak ook makkelijk schoon te maken, bijvoorbeeld met een vochtig doekje.
Productkenmerken
Licht materiaal
Met antislip
Brandwerend materiaal
Waterafstotend, dus makkelijk schoon te maken
Makkelijk mee te nemen en te verplaatsen
Over de print

Love quote: "Remember, the greatest gift is not found in the store but in the hearts of true love", afgebeeld op de zee.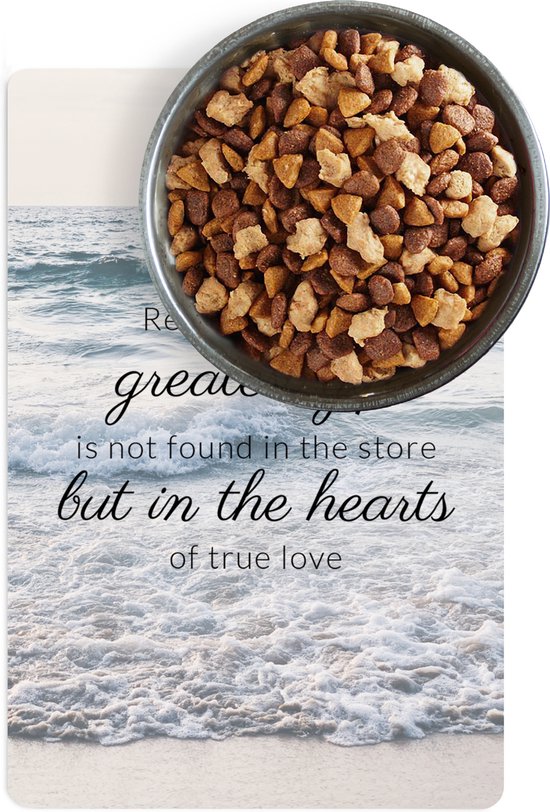 Placemat voerbak – Placemat hond – Placemat kat – Love – Quote – Spreuken – 'Remember, the greatest gift is not found in the store' – 30×45 cm