Parfumair geurparels zomerweide 4x6g
| | |
| --- | --- |
| Kleur | groen |
| Model | Universeel |
| Gewicht | 0.04 kg |
| MPN Manufacturer Part Number | 2690040031 |
| Verpakkingsinhoud | 4x 6g. |
| Aantal onderdelen | 1 |
| Aantal stuks in verpakking | 4 stuk(s) |
| Geschikt voor diameter stofzuigerbuis | Universeel |
| Geschikt voor in de bouw | Nee |
| Geschikt voor merk | Dyson, Nilfisk, Bosch, Philips, iRobot, Electrolux, AEG, Miele, Rowenta, Samsung, Kärcher, Siemens, Ecovacs, Bestron, Inventum, Princess, Tristar |
| Geschikt voor stofzuigermodel | TurboTronic CV07 serie, TurboTronic TT-CV09 Serie, Tristar SZ Serie, Siemens Z 5.0 Serie, Siemens Z 6.0 Serie, Siemens Z 4.0 Serie, Siemens Z 3.0 Serie, Siemens VS Serie, Siemens Technopower Serie, Siemens Synchropower Serie, Siemens Super XS dino e Serie, Siemens Super Serie, Siemens Super S Serie, Siemens Super M Serie, Siemens Super E Serie, Siemens Super C Serie, Siemens Super 71 Serie, Siemens Super 10 /100 Serie, Siemens Series Z Serie, Siemens Rapid Serie, Siemens Q Serie, Siemens Power Serie, Siemens Original Serie, Siemens Junior Serie, Siemens Hygienic Power Serie, Siemens Green Energy Serie, Siemens Edition Serie, Severin S'Special Serie, Severin S'Power Serie, Severin Original Serie, Samsung Stardust Modern Serie, Samsung Mint Serie, Samsung Jet, Samsung ECOBLUE Serie, Samsung Easy Serie, Samsung Easy and Clean Serie, Samsung Delight Serie, Rowenta X trem Power Serie, Rowenta Silence Force Serie, Rowenta Silence Force Extreme Serie, Rowenta Compact Power Serie, Rowenta City Space Serie, Rowenta Aspirateur Serie, Princess 333 Serie, Philips Universe Serie, Philips StudioPower Serie, Philips SpeedPro Max, Philips SpeedPro, Philips Specialist Serie, Philips SmallStar Serie, Philips SilentStar Serie, Philips PowerPro Duo, Philips PowerLife Serie, Philips PowerGo Serie, Philips PerformerPro Serie, Philips Performer Ultimate Serie, Philips Performer Silent Serie, Philips Performer Serie, Philips Performer Pro Serie, Philips Performer Expert Serie, Philips Performer Compact Serie, Philips Performer Active Serie, Philips Original Serie, Philips Mobilo Serie, Philips Jewel Serie, Philips Impact+ Serie, Philips Impact Serie, Philips HomeHero Serie, Philips Gladiator Serie, Philips Gemini Serie, Philips Fuchsia Serie, Philips Expression Serie, Philips EasyLife Serie, Philips City Line Serie, Philips AirStar Serie, Numatic PSP 200 Serie, Numatic PPT 390 Serie, Numatic PPT 220 Serie, Numatic PPR 380 Serie, Numatic PPR 370 Serie, Numatic PPR 240 Serie, Numatic PPR 200 Serie, Numatic NVR 160 Serie, Numatic NVH 180 Serie, Numatic James Eco Serie, Numatic James Basic Serie, Numatic Hetty Serie, Numatic Hetty Next Serie, Numatic Hetty Cordless Serie, Numatic Hetty Compact Serie, Numatic Henry Xtra Serie, Numatic Henry Wash Serie, Numatic Henry Trolley Serie, Numatic Henry Serie, Numatic Henry Plus Eco Serie, Numatic Henry Petcare Serie, Numatic Henry Parquet Serie, Numatic Henry Next Serie, Numatic Henry Micro Serie, Numatic Henry Cordless Serie, Numatic Henry Compact Serie, Numatic Henry Allergy Serie, Numatic George Serie, Numatic Edward Serie, Numatic Charles Serie, Nilfisk VP Serie, Nilfisk VL Serie, Nilfisk Viper Serie, Nilfisk Thor Serie, Nilfisk Select Serie, Nilfisk Saltix Serie, Nilfisk Performer Superior Serie, Nilfisk Original Serie, Nilfisk One Serie, Nilfisk Neo Serie, Nilfisk Neo Performance Serie, Nilfisk Multi II Serie, Nilfisk GO, GO + Serie, Nilfisk Force 66 Serie, Nilfisk Family Serie, Nilfisk Elite Serie, Nilfisk Elite Energy Classic Serie, Nilfisk Coupé Neo Serie, Nilfisk Coupe Serie, Nilfisk Coupe Neo Performer Serie, Nilfisk Coupe Neo Energy Serie, Nilfisk Compact Serie, Nilfisk Bubbles Serie, Nilfisk Bravo Serie, Neato Connected, Neato Botvac D, Neato Botvac, Miele Complete C3 Serie, Miele Complete C2 Serie, Miele Compact C1 Serie, Miele Classic C1 Serie, Kärcher VC 6 Serie, Kärcher VC 2 Serie, iRobot i7+ Serie, iRobot i7 Serie, iRobot e Serie, iRobot 900 Serie, iRobot 600 Serie, Inventum ST306RZA, Inventum ST306BZA, Dyson V8 Parquet, Dyson V8 Total Clean, Dyson V8 Motorhead, Dyson V8 Animal+, Dyson V8 Absolute, Dyson V7 Motorhead Origin, Dyson V7 Fluffy, Dyson V6 Slim Origin, Dyson V6 Slim Extra, Dyson V11 Animal+, Dyson V11 Absolute Pro, Dyson V11 Absolute, Dyson V10 Motorhead, Dyson V10 Fluffy, Dyson V10 Animal, Dyson V10 Absolute, DOMO DO7291S Serie, DOMO DO7287S Serie, DOMO DO7285S Serie, DOMO DO7283S Serie, DOMO DO7282S Serie, DOMO DO7278S Serie, DOMO DO7277S Serie, Dirt Devil Skuppy Serie, Dirt Devil Rebel Serie, Dirt Devil Popster Serie, Dirt Devil Paroly Serie, Dirt Devil Lifty Serie, Dirt Devil Lifty PLUS Serie, Dirt Devil Infinity Serie, Dirt Devil Galileo Serie, Dirt Devil Fantasy Serie, Dirt Devil EQU Silence Serie, Dirt Devil Beat Serie, Bosch Zoo'o Serie, Bosch Unlimited, Bosch Ultra Serie, Bosch Terrossa Serie, Bosch Sphera Serie, Bosch Silence/Solida Serie, Bosch Readyy'y, Bosch ProPower Serie, Bosch Perfecta Serie, Bosch Original Serie, Bosch Optima Serie, Bosch Natura Serie, Bosch MoveOn Serie, Bosch MoveOn Mini Serie, Bosch Move Serie, Bosch Logo Serie, Bosch Junior Serie, Bosch In'genius Serie, Bosch In'genius ProSilence Serie, Bosch Hygienixx Serie, Bosch Free'e Serie, Bosch Flexxo, Bosch ErgoMaxx'x Serie, Bosch Cosyy'y ProSilence Serie, Bosch Compaxx'x Serie, Bosch Compacta Serie, Bosch Casa Serie, Bosch Athlet, Bosch Aquarea Serie, Bosch Alpha/Silence Serie, Bosch Alpha Serie, Bosch Activa Serie, Blaupunkt XSMART, Blaupunkt XBOOST, Blaupunkt XEASY, Bissell MultiReach Serie, Bissell Crosswave, Bissell C3 Serie, Bestron Maestro Plus Serie, Bestron Grando Serie, Bestron Furbo Serie, Bestron Ecosenzo Serie, Bestron Designo Plus Serie, Bestron Cyclone Serie, Bestron Compacto Plus Serie, Bestron Acurato Serie, Bestron Acurato Plus Serie, Beko VCC Serie, AEG VX9 Serie, AEG VX8 Serie, AEG VX7 Serie, AEG VX6 Serie, AEG VX4 Serie, AEG VX3 Serie, AEG RX9-2, AEG RX9-1, AEG RX8-1, AEG RX8, AEG RX7, AEG LX8 Serie, AEG QX8-1, AEG LX9 Serie, AEG QX9-1, AEG LX7 Serie, AEG LX6 Serie, AEG LX5 Serie, AEG FX9-1, AEG CX8-2, AEG CX7-2, AEG CX7-1 |
| Geschikt voor type stofzuiger | Alle type stofzuigers |
| Product breedte | 1 cm |
| Product gewicht | 0.01 kg |
| Product hoogte | 1 cm |
| Product lengte | 1 cm |
| Type stofzuigeraccessoire | Stofzuigerverfrisser |
| Universeel toepasbaar | Ja |
| Vaatwasser veilig | Nee |
| Verpakking breedte | 91 mm |
| Verpakking hoogte | 33 mm |
| Verpakking lengte | 147 mm |
| Wasbaar | Nee |
| EAN | 4012074018535 |
| Categorieën | Huishouden Stofzuigeraccessoires Stofzuigen |
| Serie | Scanpart Parfumair |
| Merk | Scanpart |
| Geschikt voor model | Dyson V10 Absolute, Dyson V7 Fluffy, Dyson V8 Absolute, Dyson V10 Animal, Dyson V10 Motorhead, Dyson V11 Absolute, Dyson V10 Fluffy, AEG RX7, Dyson V8 Animal+, Dyson V8 Total Clean, Dyson V8 Motorhead, Dyson V11 Animal+, Dyson V7 Motorhead Origin, Dyson V11 Absolute Pro, AEG CX7-1, Dyson V6 Slim Origin, Dyson V6 Slim Extra, Numatic Hetty Serie, Bosch Original Serie, Bosch Activa Serie |
Laatste prijs update: december 1, 2023 2:22 am
Meer informatie
De geurparels verspreiden een frisse geur van een zomerweide tijdens het stofzuigen en maskeren de onaangename geur van uitgeblazen stof.

Giet de geurparels rechtstreeks in de stofzuigerzak/stofbak of strooi ze op de grond en zuig ze op.

De geur van de parels blijft actief gedurende de levensduur van uw stofzuigerzak (ongeveer 1 maand).

Voeg de geurparels bij het vervangen van uw stofzuigerzak of het legen van uw stofbak opnieuw toe.

Geur: zomerweide.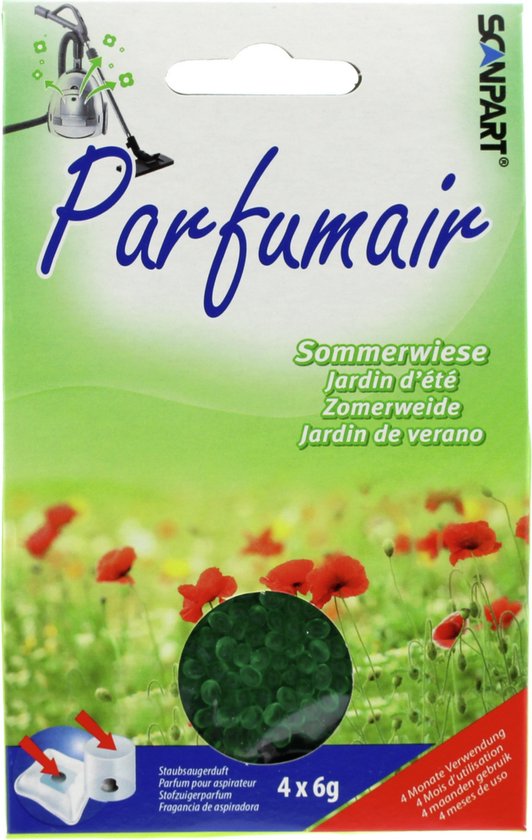 Parfumair geurparels zomerweide 4x6g
Gerelateerde Producten