PALMAT® Serie PT4200113 – Universele Tafelblad – TV Standaard – Voetstukbevestiging – Voetstuk Televisiebeugel – 32-65 Inch – VERSA 800 x 600 mm
The PALMAT® table-top television stand is universal and is ideal for almost all types of televisions. In addition, the stand is made of high-quality material and can take a beating, so it will not be damaged quickly. Thanks to the double legs, it creates a stable surface and you can also hang heavier televisions on it. An absolute star in its class!
The table TV stand can be adjusted in height, which ensures that you can always adjust to the desired sitting position. We at PALMAT guarantee a good viewing experience with the television standard and your safety is our top priority.
Why the PT4200113 series:
Made of very high quality material
Incredibly durable in use and lasts a long time
Provides optimal stability and comfort
Completely universal
Easy to set up yourself
Suitable for TVs from 32 to 65 inches
A maximum load capacity of 50 kg
Adjustable height:
This table-top television stand has the possibility to adjust it in height, so that you can set the desired height yourself. This provides a better viewing experience and makes it possible to watch television from any angle.
Stable and comfortable:
The table stand provides optimum stability for TVs from 32 – 65 inch and with a maximum load capacity of up to 50 kg. The flexibility of the stand allows you to adjust it to the desired height anytime, anywhere. This high-quality bracket provides the best stable base for your television.
Versatile appearance:
The PALMAT® PT4200113 series comes with a cable management system to hide the wiring, keeping your TV cabinet neat and tidy. The bracket also offers the necessary safety by preventing the television from falling over and ensuring that the wiring cannot be caught by children.
Simple and fast installation:
By means of the supplied instruction you can install this television stand quickly and easily. In addition, the stand comes with the necessary mounting material, so that we can guarantee a problem-free installation.
Product specifications:
Product size: (L) 700 x (W) 350 mm
VESA (max.): (L) 800 x (W) 600 mm
Load capacity: 50KG
Suitable TV size: 32 – 65 inch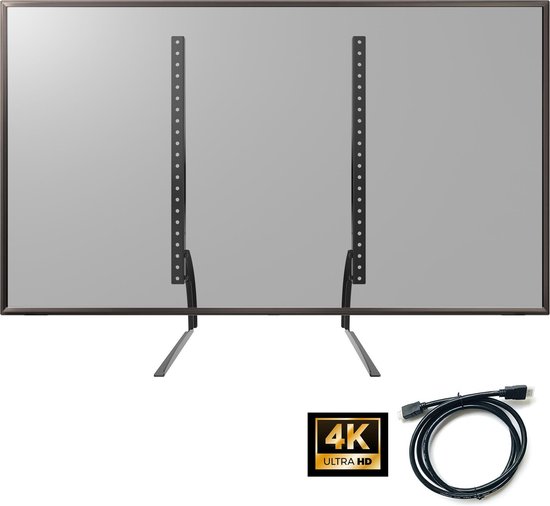 PALMAT® Serie PT4200113 – Universele Tafelblad – TV Standaard – Voetstukbevestiging – Voetstuk Televisiebeugel – 32-65 Inch – VERSA 800 x 600 mm