Monitor arm voor laptop scherm – Laptop Standaard – Monitorbeugel – Monitor Arm – Monitor Beugel – Monitorarm
【Universal Single Monitor Desk Mount】 – HUANUO monitor holder for the 13 to 32 inch (diagonal between 33-81 cm) LED LCD monitor with VESA dimensions of 75×75 mm and 100x100mm. This bracket is also suitable for those monitors whose diagonals are smaller or larger than the screen size indicated in the description. Please ensure that the VESA distance is within the supported range and the load weight of the bracket does not exceed 8 kg.
【Fully Automatic Adjustable】 – This vesa mount is mounted on a sturdy column and is height adjustable: the distance from the VESA plate to the desktop can be adjusted from 0 to 41 cm. You can also extend the monitor to 34 cm horizontally by adjusting the joints on your stand. The screen mount has three hinge points that can be rotated 180°, 270°, 180°. The VESA plate is 360° rotatable and can be tilted from 45° to – 45°.
【2 Mounting Options】 – The monitor bracket comes with a C clamp and a mounting kit for the pass-through. The user can fix the stand and hold your monitor with the C clamp (max. Table thickness 10 cm). If there is a hole (diameter: approx. 10 mm) in your desk sitting, you can choose mounting the grommet (max. Table thickness 8 cm), creating more space on your desk and keeping your workplace spacious and tidy.
【Space Saving & Ergonomic Design】- Keeping the monitor on the stand will save you more desk space and keep your workplace spacious and tidy. A clean workplace leads to a clear mind to improve the quality of your work as a whole. 32 inch monitor can be positioned either portrait or landscape so you can work at different angles, effectively reducing strain on the neck and back.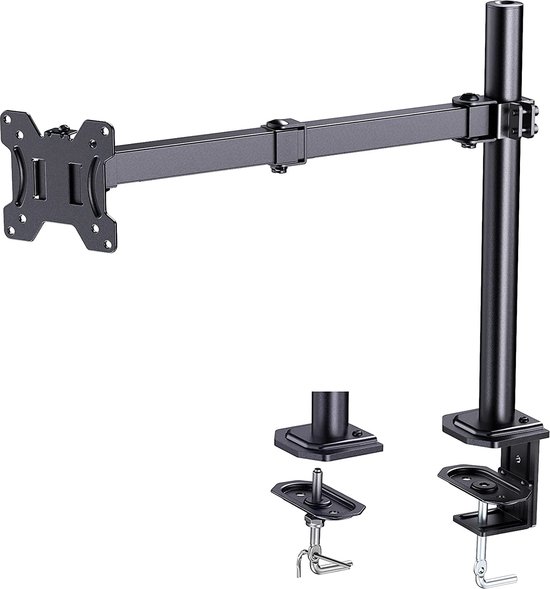 Monitor arm voor laptop scherm – Laptop Standaard – Monitorbeugel – Monitor Arm – Monitor Beugel – Monitorarm