Lechuza PERFECT FLOWER 100 gr – Langwerkende mest
Lechuza PERFECT FLOWER 100 gr
Langwerkende meststof (17+13+17+1+sporenelementen)* speciaal voor bloeiende planten.
Perfecte meststof met vertraagde afgifte met sporenelementen voor bloeiende planten.
LECHUZA breidt zijn productassortiment uit met verschillende meststoffen met vertraagde afgifte, die groene planten voorzien van de ideale hoeveelheid en samenstelling van voedingsstoffen om aan hun behoeften te voldoen. Het resultaat zijn planten die heerlijk groen en bloeiend zijn, zonder veel moeite of geïnvesteerde tijd.
Hoogwaardige sporenmineralen bevorderen een gezonde groei van plantenweefsel en maken de bloemen van de plant beter bestand tegen omgevingsinvloeden. De speciale coatingtechnologie zorgt ervoor dat voedingsstoffen gestaag vrijkomen over een periode van 6 tot 8 maanden, waardoor het ideaal is voor gebruik in waterreservoirs zonder risico op verbranding van kunstmest of overbemesting.
PERFECT FLOWER ondersteunt bloeiende planten bij het behoud van hun bloemen het hele seizoen door en werkt perfect in combinatie met het slimme originele LECHUZA potgrondbewateringssysteem.
Voordelen in één oogopslag:
voldoet perfect aan de voedingsbehoefte van uw groene planten
stabiele afgifte van voedingsstoffen over een periode van 6-8 maanden
prachtige bloemen & gezonde planten het hele seizoen
eenvoudige dosering
ideaal voor gebruik in waterreservoirs
*samenstelling:
17,0 % N Totaal stikstof
5,6 % N Nitraatstikstof
4,8 % N Amoniumstikstof
6,6 % P2O5 carbamietstikstof
13,0 % P2O5 ammoniumcitraatoplosbaar en wateroplosbaar Fosfaat
12,2 % P2O5 Wateroplosbaar Fosfaat
17,0 % K2O Wateroplosbaar Kalium
1,0 % MgO Magnesiumoxide
0,01 % Borium
0,01 % Koper
0,13 % IJzer
0,01 % Mangaan
0,00 % Molybdeen
0,02 % Zink
Lechuza PERFECT FLOWER 100 gr
Slow release fertilizer with trace minerals for flowering plants
LECHUZA is expanding its product range with various slow-release fertilisers, which provide green plants with the ideal amount and composition of nutrients to meet their needs. The result is plants that are wonderfully green and flowering, without any great effort or invested time.
High-quality trace minerals promote healthy plant tissue growth and make the plants flowers more resistant to environmental influences. The special coating technology allows nutrients to be released steadily over a period of 6 to 8 months, making it ideal for use in water reservoirs without the risk of fertiliser burns or over-fertilisation.
PERFECT FLOWER supports flowering plants in preserving their flowers throughout the season and works perfectly in combination with the smart original LECHUZA sub-irrigation system.
Advantages at one glance:
perfectly meets the nutritional needs of your flowering plants
stable nutrient release over a period of 6-8 months
magnificent blooms the entire season
green leaves, healthy plants
ideal for use in water reservoirs
simple dosage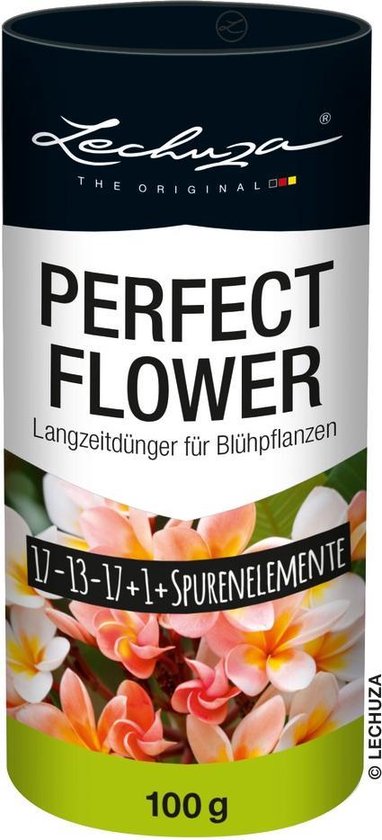 Lechuza PERFECT FLOWER 100 gr – Langwerkende mest