Boneyard Cock – 10 inches – Black
Moulded from real life porn star Aron Ridge for a life-like size, feel, sensation and pleasure. The 100% soft touch silicone is so close to having the real thing deep inside you, you'll never know it wasn't the real thing. The kit includes 2 soft touch silicone interchangeable bases to give you hours of trying new positions or using with a partner or two.
Length: 10" (25cm)
Girth: 6.25" (16cm)
The X-Treme Grip Interlocking System, allows the user to choose from a silicone handle or suction cup base for loads of hands-free fun.
100% Soft Touch Silicone
Interchangeable Handle & Suction Cup
Harness Compatible
This product is safe with all lubricants, completely hypoallergenic, non-irritating and compatible with sensitive skin.
Care Instructions:
Wash thoroughly with mild soap and warm water or toy cleaner. Pat dry and allow product to completely air dry. Store separately.
Categori(e)(ë)n:
Silicone Dildos
Specificaties:
Overige kenmerken:
Materiaal:
Wasvoorschrift:
Sterke Punten:
Afmetingen verpakking
Gewicht (gr): 1000.00
Lengte (cm): 20.00
Breedte (cm): 9.00
Hoogte (cm): 42.00
Huidige stock: -4
In Productie: 12
Volgende levering: 2021-12-11
Keywords
BY0422, Boneyard Cock 10 inches NEW, 666987104225, Boneyard, Silicone Dildos, Silicone, Black
Gekende EAN codes:
666987104225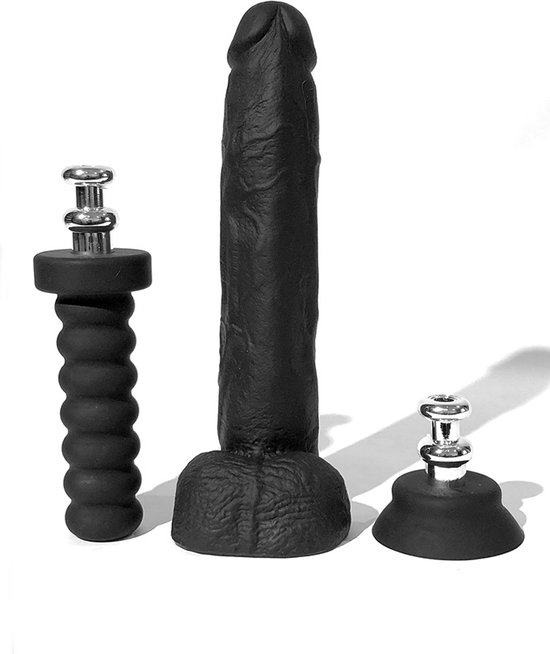 Boneyard Cock – 10 inches – Black