BMW, Land Rover en Mini naar ISO kabel – Diverse modellen – 0,15 meter
Deze Quadlock ISO kabel van 15cm is geschikt voor het aansluiten van autoradio's met ISO aansluiting op de originele kabelboom van onderstaande modellen.
Onder andere geschikt voor modellen van de merken
Onder andere geschikt voor de volgende modellen autos:
BMW 3 (E30) 1985 tot 1992
BMW 3 (E36) 1990 tot 1998
BMW 3 (E46) 1998 tot 2001
BMW 5 (E34) 1988tot1996
BMW 5 (E39) 1996tot2001
BMW 7 (E65) 1977tot2001
BMW 7 (E66) 1977tot2001
BMW 8 (E31) 1989tot1999
BMW Compact 1994 tot 2001
BMW Mini 2002 en later
BMW X5 2000en later
BMW Z3 1996 tot 2001
Land Rover 25 2000 en later
Land Rover 45 2000en later
Land Rover 75 1999en later
Land Rover Defender 2001en later
Land Rover Discovery 2 2001 tot 2004,
Land Rover Freelander 2001 tot 2003
Welke ISO kabel heb ik nodig?
Lukt het niet of kom je er niet uit, neem dan contact op met onze klantenservice. Wij helpen je graag met het vinden van dé kabel die bij jou past. Altijd de juiste stekker, binnen een werkdag gevonden en geleverd. Hebben we de juiste kabel nog niet maar kunnen we deze wel krijgen? Dan bestellen we deze voor je.
Een ISO kabel is meestal inbegrepen wanneer je een nieuwe aftermarket radio koopt, maar jouw auto beschikt niet altijd over ISO aansluitingen. Kijk daarom in de auto of je een rode en zwarte stekker ziet. Is dat niet het geval maar heeft jouw nieuwe radio wel zo'n aansluiting? Dan heb je een verloopkabel nodig. Twijfel niet langer en neem contact met ons op voor advies.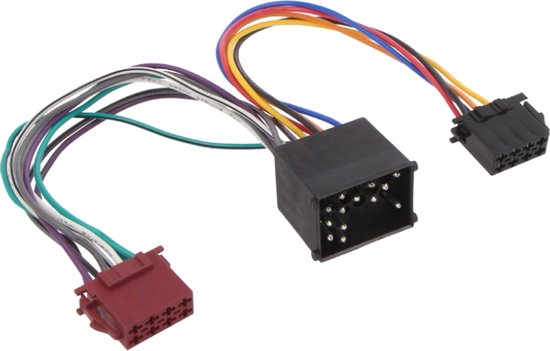 BMW, Land Rover en Mini naar ISO kabel – Diverse modellen – 0,15 meter