2 in 1 Yeti Pro Bluetooth 5.0 Adapter Ontvanger Receiver 3,5 Jack Transmitter Speakers Auto TV Dongle HD Audio Stereo RCA
Met de Yeti Pro Bluetooth adapter creëer je een bluetooth verbinding tussen 2 apparaten. Dit is handig wanneer je een speaker, of receiver hebt zonder bluetooth, maar wel draadloos wilt streamen.
De Bluetooth adapter is een bluetooth verzender (verzender) als ontvanger (ontvanger). Gebruik je de streamer als ontvanger, dan stream je muziek vanaf je smartphone of tablet naar je luidsprekers.
Wanneer je hem als verzender gebruikt, stuurt hij het audiosignaal van je tv of geluidsinstallatie naar je bluetooth oordopjes of koptelefoon. Dit komt van pas wanneer je bijvoorbeeld niemand wilt storen tijdens het tv kijken. Je sluit de audio streamer aan via de meegeleverde kabel.
Voordelen:
✓ Bluetooth 5.0
✓ HD Stereo Audio
✓ Ontvangen
✓ Uitzenden
✓ Compact
Specificaties:
– Bluetooth 5.0
– Oplaadtijd 2 uur
– Werktijd ontvangen: 6 uur, uitzenden: 5 uur
– Li-Polymer batterij (200mAh)
– Afmetingen: 44 x 44 x 12mm
– Gewicht: 18g
– Bereik 10m (zonder blokkerende objecten)
In de verpakking:
– 2 in 1 Bluetooth Adapter (verzenden/ontvangen)
– 3.5mm Audiojack
– Oplaadkabel
– Handleiding
– 3.5MM Tulp RCA Kabel
*Door de bluetooth verbinding ontstaat er een kleine vertraging. Dit is geen probleem wanneer je hem gebruikt voor het streamen van muziek, maar kan storend zijn bij het kijken van films of videobewerken.
100% NIET-GOED-GELD-TERUG GARANTIE
Wij bieden standaard 30 dagen bedenktijd op onze producten. Bevalt het product niet, kun je hem kosteloos retourneren.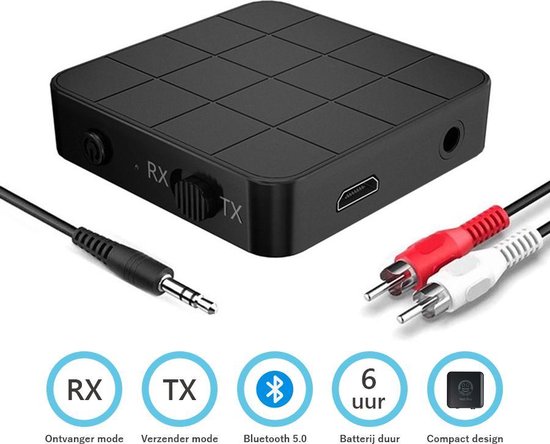 2 in 1 Yeti Pro Bluetooth 5.0 Adapter Ontvanger Receiver 3,5 Jack Transmitter Speakers Auto TV Dongle HD Audio Stereo RCA